What is eToro
About eToro
It is all-in-one platform. They have all the tools you could possibly need to manage your trading portfolio. Their social trading system is very flexible. It provides you to easily set the amount that you want to automatically copy.
You are free to browse thousands of profiles and copy their trades, there are no limits on the number of users that you can copy.
Their page has a remarkable design. Visually attractive and they always make constant updates and improvements.
eToro gives us more than 1000 choices between stocks, commodities, currencies. And also cryptocurrencies, like Bitcoin, Ether, Bitcoin Cash, Dogecoin, Ripple, Dash, Litecoin, Ethereum Classic, Stellar Lumens, and NEO.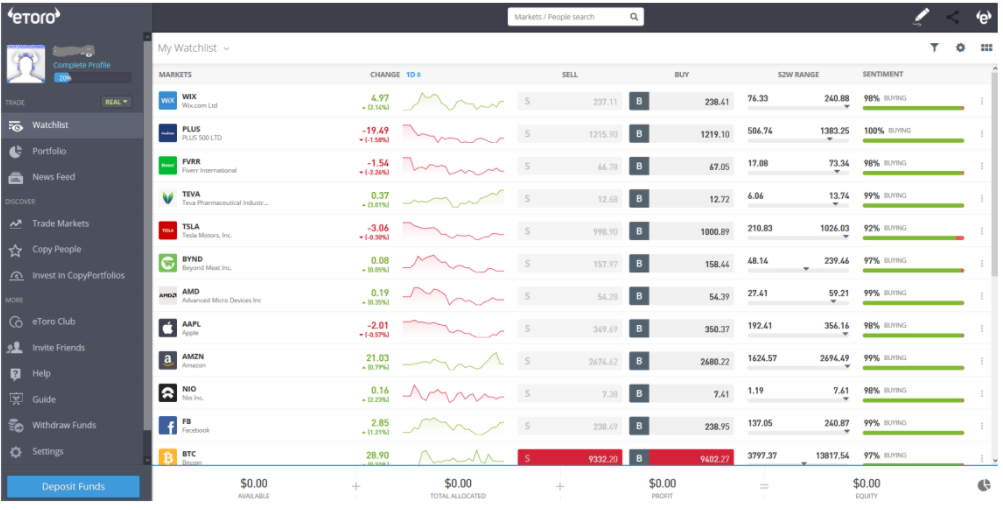 As a multi-asset platform, eToro offers over 2000 traded assets. Stocks, commodities, forex, CFDs, social trading, indices, cryptocurrency, index-based funds, and exchange-traded funds are all accessible on eToro (ETF).
There are a variety of financial assets that may be traded on eToro. When it comes to financial investments, an asset is any tangible or intangible security or asset that has a monetary value linked to it. Therefore, stocks, commodities, foreign exchange (forex), contracts for difference (CFD), social trading (social trading), indices, cryptocurrencies, index-based funds, and exchange-traded funds (ETF) are all considered financial assets.
In the sense that it operates in 140 countries, including Europe, Oceania, and Africa, eToro is a worldwide trading platform. The United Kingdom, Germany, Australia, South Africa, Saudi Arabia, Thailand, and China are among the major nations covered by eToro. According to its Wikipedia article, eToro has over 20,000,000 users. eToro's statistics are commendable. eToro may expand into South East Asia and Hong Kong as early as 2021, according to reports. Only some trading services and financial markets are available on the eToro platform if you live in the United States, depending on the state you live in. Due to regulatory constraints in the United States, this is the case.
Those with a rudimentary grasp of forex and cryptocurrency trading can benefit from this platform. 
More than a dozen digital currencies are offered by eToro, one of the newest cryptocurrency platforms available in the United States. An innovative social trading tool allows you to imitate other investors' moves. It also features a clear price structure that traders and investors would find enticing, unlike most of its competitors. Continue reading our eToro review to discover more about this exchange and see how it compares to other cryptocurrency platforms.
==> Check out eToro here <==
67% of retail investor accounts lose money when trading CFDs with this provider. You should consider whether
you can afford to take the high risk of losing your money.

Exceptional benefits
Pricing is pretty straightforward
Some of eToro's competitors' cryptocurrency exchanges have complicated pricing systems. Depending on the amount of the deal, they may charge both a spread and a transaction fee. The spread, or the difference between the buy and sell prices of the cryptocurrencies on eToro's platform, is how the company makes its money. Although the spreads are flexible and might fluctuate, eToro is upfront about how much it costs.
Work Experience
Simply click the "Transaction" option while viewing the coin in question on your watchlist to place a trade. On your portfolio listing, there is a conspicuous "Buy" button; to sell a specific coin, click or press the drop-down arrow and pick "Sell" from the list. If you bought it in many lots, you can close the entire position or just a piece of it, but you can't sell off a portion of an individual lot. If you acquire $25 of Bitcoin and subsequently want to sell it, you must complete the full transaction rather than just the $10 portion.
CopyTrader
The CopyTrader function on the eToro platform is one of its most distinctive features. In essence, this allows eToro users to duplicate the trades of their favorite high-performance traders with a single click. Simply enter the amount of money you wish to spend. eToro automatically transfers those money appropriately to your preferred eToro trader's positions. This social trading platform also does not charge any administration or other fees. Users can opt to replicate just one successful trader or as many as 100 at the same time while using this trading program.
Portfolio Evaluation
On the platform, there isn't much in the way of portfolio analysis. By selecting Portfolio, you can see your existing holdings as well as the value change since you first started the position. You can rearrange the available columns in the Portfolio listing, or substitute "Net Invested" or "Fees" for one of them, although customisation is restricted. You'll notice some data on trading profitability if you click on your own (or any other) username.
Education
For consumers in the United States, the educational resources are on the light side. You'll discover a website organized by topic where you may read instructional resources regarding your eToro account, investing and trading, eToro wallet, deposits and withdrawals, and more if you choose Help Center from the Company drop-down menu. You may also use the website's home page, "The Complete Guide to Fintech," to do a broad search. If you're interested in following other traders, you should read the chapter that explains how eToro's Copy Portfolios function.
Choosing a cryptocurrency
On its platform, eToro allows users to purchase and trade 16 different cryptocurrencies. Here is the whole list:
Bitcoin (BTC)

Ethereum (ETH)

Bitcoin Cash (BCH)

Dash (DASH)

Litecoin (LTC)

Ethereum Classic (ETC)

Cardano (ADA)

IOTA (MIOTA)

Stellar (XLM)

EOS (EOS)

NEO (NEO)

TRON (TRX)

Zcash (ZEC)

Binance Coin (BNB)

Tezos (XTZ)

Uni (UNI)
Is eToro secure for your cryptocurrency?
The simple answer is yes, however eToro's trading platform lacks the same level of security as some of its larger competitors.
The bulk of cryptocurrencies held on eToro's platform, like other large exchanges, are kept in cold storage, which means they are maintained on servers that are not linked to the internet. For liquidity, the firm keeps some cryptocurrency in "hot wallets."
It's unclear if consumers in the United States are covered in the event of a platform breach. However, crypto assets are expressly excluded from its European insurance plans.
On eToro, there are no commission stocks.
Buy Stocks on eToro As a multi-asset platform, eToro can provide investors with zero fee stock trading on over 2000 stocks and shares from 17 different financial exchanges across the world.
eToro offers zero commission on stocks, which means that when you purchase and sell stocks on the eToro web platform or mobile app, no additional costs are applied. Because most other brokers charge a transaction fee for executing a deal, this is a significant advantage of purchasing stocks with eToro. On the eToro platform, there is no limit to the number of shares you may buy with zero fee.
It's worth noting that the eToro $0 commission offer only applies to non-leveraged stock trading. As a result, this zero fee offer does not apply to stock CFD trades.
Depending on the regulatory agency you come under, the 0% commission offer varies somewhat. Clients in the United Kingdom who are regulated by the Financial Conduct Authority and customers in Cyprus who are regulated by the Cyprus Securities Exchange Commission, for example, will pay no commission on the majority of eToro stocks and shares.
The 0% commission from eToro applies exclusively to all accessible US equities and shares for Australian citizens who fall under the Australian Securities and Investments Commission's regulation. Users in the United States do not have access to zero commission stocks.
eToro offers a modest minimum trading requirement of $50 USD, which translates to about £36 GBP depending on the current exchange rate. On non-leveraged equities, eToro likewise has no overnight fees.
Unlike some brokers, eToro does not charge its customers any management, ticketing, or admin fees. Unfortunately, some eToro rivals may impose a quarterly administration fee.
Due to the scale of their client base, eToro is able to provide highly competitive deals such as $0 commissions. With over 20 million users globally, eToro's volume of transactions allows them to pass on savings to their customers while being highly competitive in comparison to rival brokers.
Copy Trading and Stock Trading on eToro
When you establish an account with eToro, you may also invest in business stocks and shares using eToro's well-known social trading and copy trading features. Copy trading is when you use eToro's unique CopyTrader and CopyPortfolio copy trading platform capabilities to follow other traders and investors on the eToro platform. Social trading is a type of copy trading. Users may monitor stock trading performance and duplicate trades of the top performing investors on the eToro site using these eToro copy methods. Users may search through tens of thousands of financial products to discover a well-known investor who fits their trading strategy and requirements.
eToro and other copy trading sites have grown in popularity as alternatives to automatic robo advisers.
You are not restricted to equities; the eToro investment platform's CopyTrade and CopyPortfolio allow social traders access to a wide range of asset classes, including cryptoassets, commodities, currencies, ETFs, Indices, and equity trading. eToro is brimming with trading ideas.
Copy trading on eToro allows users to copy the transactions of more than 20 million users from more than 100 countries. Trading choices are aided by copy trading and social trading. No other eToro alternative or trading platform can presently provide this to its customers, and it offers up new investment methods and income opportunities through eToro copy trading.
eToro HAS A FREE DEMO ACCOUNT
You can open the demo account totally free of charge, to experience your trading journey.
You can use this free demo account to try with paper money trading, test, learn, see how it looks when you lose trades, see when you win some.
eToro, with the hedge to hedge fund security, will never force you to open the real account until you want that.
(Buying TSLA shares on demo account):

==> Demo Account – Free <==
WITHDRAWALS
With eToro, it's pretty smooth.
The withdrawal processing time takes only 1 business day while the time it takes to receive the payment may vary depending on your payment provider and the involved banks.
They support a huge selection of banking methods:
credit and debit cards (Visa, Mastercard, Diners Club),
China Union Pay,
Giropay (Sofortüberweisung),
Neteller,
Skrill Limited UK,
WebMoney,
Wire Transfer,
Wirecard- Wire and Credit Card,
Yandex, and
Paypal.
We usually like to stick to Visa & Mastercard, Wire Transfers, and Paypal.
But as you can see from the list above, you've got plenty of great options that other brokers simply can not offer.
So far, we never encountered any issues with our withdrawals with eToro.
CUSTOMER SUPPORT
Customer support is available 24/5 – Monday through Friday via email having a 48 hour response time.
That's great!
In 2021, there aren't many brokers offering professional telephone support anymore.
The company also features a "Customer Service Wall", where customers can interact with customer service in a forum-type format.
Their feeds are synchronized with the actual market prices. This is highly essential to know because on that information you will base your trading decisions. eToro is known as the pioneer in the social trading industry and that is proven by its massive 5 million global users.
==> Check out eToro here <==
67% of retail investor accounts lose money when trading CFDs with this provider. You should consider whether
you can afford to take the high risk of losing your money.
Is it safe to invest with eToro?
Short answer: Yes.
Long answer: Yes, and the 5 million+ worldwide userbase confirms that.
The administrative body and regulatory status of a broker, such as eToro, are extremely essential factors to consider when choosing a broker. Traders who choose to trade without the supervision of a regulatory body do so at their own risk. Any money you put up is at risk.
eToro has a head office in Cyprus, UK, and has been in business for 14 years.
eToro is a regulated platform. This implies that the Financial Conduct Authority (FCA), the Cyprus Securities and Exchange Commission (CySEC), the Markets in Financial Instruments Directive (MiFID), and the Australian Securities and Investments Commission (ASIC) regulate eToro and are responsible for its actions.
What People Are Saying About eToro
* I am a strong supporter of eToro. Being from New Zealand it isn't easy investing in the crypto space. Thanks, entire their team.
* It is simply the best and easy to use for newcomers. There is a difference between losing because you made the wrong decisions and a poor site. Most of the comments on this site tell me more about a poor loser than eToro.
* Excellent broker … So far so good… very fast execution…
* I am very happy with the platform and look forward to investing more money!.
* I think it cannot be any easier to introduce people with little to none knowledge about trading. Clean UI, easy to find things , graphs could be better but overall 5 stars experience for me !
Video Walkthrough Of eToro

The Best Bonus For eToro
You can clearly see from the points above, eToro truly has some major advantages over other brokers.
As of this writing (May 2021), the firm is now valued at over $2.5 billion.
According to sources, the user base has increased significantly, with the platform now boasting
over 16 million users.
But we wanted to make signing up with eToro even more of a no-brainer for you…
… And that's why we created this crazy bonus deal for you:
eToro is a multi-asset platform which offers both investing in stocks and cryptoassets, as well as trading CFDs.
Please note that CFDs are complex instruments and come with a high risk of losing money rapidly due to leverage.
67% of retail investor accounts lose money when trading CFDs with this provider. You should consider whether you
understand how CFDs work, and whether you can afford to take the high risk of losing your money.
Past performance is not an indication of future results. Trading history presented is less than 5 complete years and
may not suffice as basis for investment decision.
Copy trading is a portfolio management service, provided by eToro (Europe) Ltd., which is authorized and
regulated by the Cyprus Securities and Exchange Commission.
Cryptoasset investing is unregulated in some EU countries and the UK. No consumer protection. Your capital is at
risk.
Get access to Traders-Paradise.com stock signal algorithm for limited time!