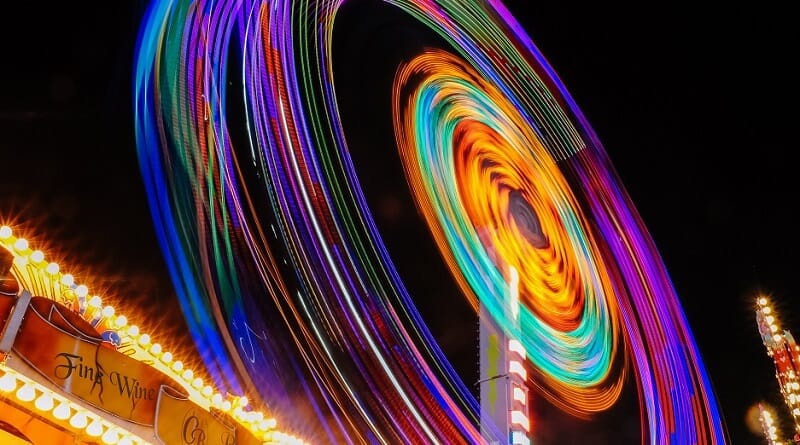 A spin-off takes place when a company decides to get rid of a portion of its asset base. It can happen because it wants to focus its activities elsewhere but is unable to sell the assets for a price that it feels reflects their value. Instead, the parent company sets the assets up as a separate company, then hands out shares in that publicly listed firm to its current investors.
The speed at which rivals have pushed restructurings in nearly every industry has raised the number of corporate spin-offs. Spin-offs give a fruitful base for a mixture of investment systems. Growth possibilities occur when a prime company relieves a subsidiary whose prospects have been hidden by the slow extension of the prime company. Value investors make a profit when the price of such a company drops to charming levels due to chaotic selling. Academic studies show that the ordinary spin-off outperforms the market in a time frame of three years of autonomy.
Spin-offs are an area of the investment world into which few investors venture. The reasons for their lack of enthusiasm are clear: spin-offs transactions can be complex, and the available information is often limited and convoluted. It's too bad that so few people venture into the spin-off arena, though, because spin-offs are one of the most compelling and consistent sources of outsized returns.
The corporate spin-off is an operational strategy used by a company to create a new business subsidiary from its parent company.  A spin-off happens when a parent corporation separates part of its business into a second publicly-traded entity and distributes shares of the new entity to its current shareholders. The new entity takes assets, employees, or existing product lines and technologies from the parent in exchange for a predetermined amount of cash. The spin entity may take on debt to provide a distribution to the parent in exchange for those assets or loss of cash flow.
What is a spin-off company worth after the spin-off has taken place? Typically more than most investors realize unless they are value investors with spin-off experience.
Why do spin-offs happen?
There are a number of reasons, but here are some of the most common:
A spin-off can return value to shareholders from a business that is difficult to sell outright.
A spin-off can separate unrelated businesses, allowing management of each new entity to focus its undivided attention on a single set of goals.
A spin-off can make it easier for the market to understand distinct businesses, and to value them more appropriately.
A spin-off can fix legal or regulatory issues, providing brighter opportunities for the company.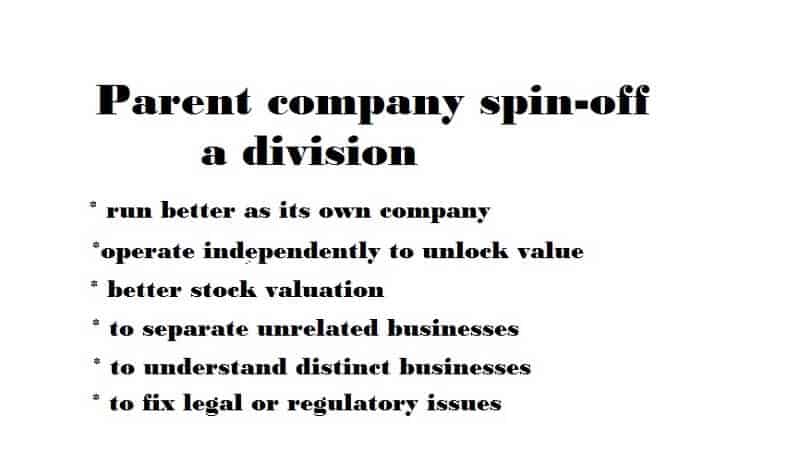 Why do companies choose to do a spin-off?
There is a mixture of reasons a company may want to spin-off a part of its business. For example, if a part of its business is going in a radically different direction and has different vital preferences, allowing this part to operate alone can unlock value.
This was the main reason for the Refiner ConocoPhillips spun off its downstream assets to create Phillips 66. The new company recorded good profits as crude oil prices fell and refiners' margins grew. Within one year earnings rose for almost 2 billion. The stable production let Phillips 66 to pay $400 million to shareholders in 2012 in dividends and share gains. 
Spin-off allows the directors of each to focus on their core operations instead of worrying about a broader spectrum of business activities.
Spin-offs allow investors to buy shares in a more specific type of business that meets their investment goals. For instance, if someone wants to add a financial company, they can now buy shares of just Phillips 66 without simultaneously investing ConocoPhillips business.
Whatever the reason for a particular spin-off, the common spot is that management believes the company will generate more shareholder value with the assets separated.
From a business perspective, it should be great to have 15 successful businesses. But this is from an income and administrative simplicity perspective. You have one board and one big corporate hierarchy. As long as the company does not get down due to its size, more income under one roof should not be a defective thing. However, when you mix in ownership interests and stock it becomes harder.
When you have a mix of business it can be harder to achieve the true value of a company. When companies are in two separate businesses you need to separate the margins of each and the course of each industry. Then you need to determine what has better long-term potential.
For shareholders, it can be better to separate the old dividend business and the high-growth business. That way both can gain real market value. Usually, the old business will scale down new business in terms of estimation.
With a spin-off, you receive the stock of another company as a dividend. That gives you a position in two companies. A lot of time both the parent and the spin-off can see the chance. Sometimes the old business is not as good, but it is hard to value so the market stays away. 
Generally, the spin-off does better, because it is the new player and was formerly overshadowed by the older larger business. 
So keep an eye out. By the time spin-offs are announced it might be too late to really get good value unless you think the spun-off company is going to be a huge winner. You would like to find these a bit early. As an investor, you want to catch it and then sell to the people gathering in. You would not wait until the spin-off is completed.
How you can get spin-off stocks on the cheap
The stocks of the recently formed company get distributed to the parents' shareholders, who are then free to hold them, sell them, or buy more. Usually, shareholders immediately sell these new stocks. 
Individual shareholders regularly sell their spin-off stocks because they were formerly investing in the parent company, not the smaller and separated business being spun-off. 
So when they get the chance, they clear themselves of their part in the business.
Institutional investors seldom sell for the same reason. Yes, they also usually sell just because they don't have a choice. Spin-off companies are usually a small fraction of the parent company. 
Thus, the many institutional investors who are confined to that are forced to sell their shares. Simply because the time and effort needed to research and stay up on an investment that accounts for such a small piece of their overall portfolio are not worth it.  Picking up the spin-off stocks after the price is driven down after selling, however, can be stupid indeed. Not.
Quiz yourself on What is a Spin-Off Company in the following quiz:
When unsure what's the right move, you can always trade Forex
Get the number #1 winning technical analysis ebook for trading Forex to your email.
Containing the full system rules and unique cash-making strategies. You'll be surprised to see what indicators are being used and what is the master tuning for successful trades. Including case-studies and images.