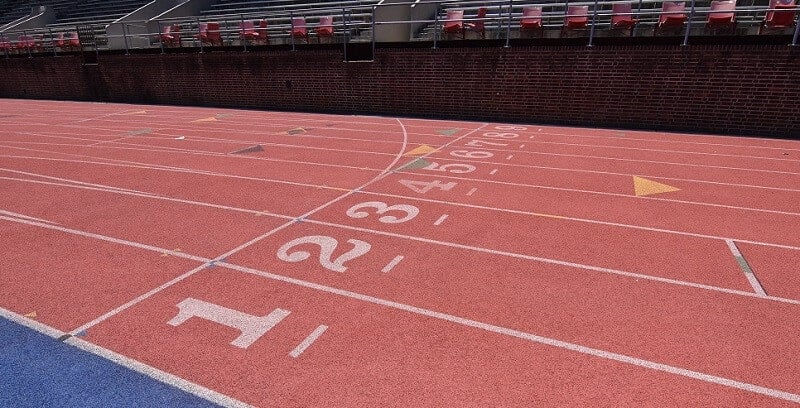 OK, so you've learned something about investing in stocks and maybe picked out some stocks and things are good. 
That's great.
But how do you really go about buying them?
What are the mechanics involved of buying the stock?
Where do you have to go and who will help you with such things?
And that's what we're going to talk about here.
We're going to look at the different types from full-service brokers or brokerage houses. The traditional manner of when you think about buying stocks is to go through a broker house.
There's a lot of various options out there.
You can find a lot of discount brokers or online brokers where you can get a lot more discounts. There's online robotics or online Roble financial planners whether the whole in between a stockbroker and a full-service financial planner. They can give you some advice or at least some ideas around you know building a portfolio. The financial planners may help you with bonds and cash and other things on a total investment picture.
So, let's see what do we have here:
Full-service stockbrokers
Online stockbrokers
Online Roble financial planners
Financial planners
Buy direct from the company
Yes, you can buy stocks in some cases directly from a company. and we'll talk about how you can do that. 
For the person who has an interest in investing in the stock market, this course will show you the advantage/benefits of investing in stocks and how to execute trade transactions.
What are the returns on stock investment?
How much do I need to invest in stocks?
What is the structure of stock investing?

What are the returns on stock investment?
The basic appeal of investing in stocks is the potentially attractive returns.
Here are two examples:
Capital gain: Profit from a price increase, buying low and selling high
Income gain: Dividends. The company returns parts of the profits quarterly, semiannually, or annually to shareholders.
"Risk and return are two sides of the same coin."
It is a stimulating and active rule in the investment society. Stocks are no exception. The chance of stock prices going down after buying stocks is a possible scenario. Also, listed firms may bankrupt, but the lure of stock investing is not all about financial return. Investors can also gain corresponding rights as stockholders.
For example, wield the right to vote at a general meeting of stockholders and join the company's decision-making. Also, during the volatility of stock markets, investors develop an interest in economics. Investors also get to learn to analyze the financial statements of the companies whose stocks they buy. These are by-products to make knowledgeable investment decisions.
Frankly, all depends on your particular need.
Who can give you the information on each of these things so you can make a good choice?
We will try.
Do you have an impression that stock investing is only for wealthy people? Actually, you can start to invest even without a large sum of money.
The minimum amount required for trading depends on the lot size. The minimum lot depends on the stock price.
Remember, there are additional costs for the trading commission.
Trading of stocks is created by board lot or round lot system.
The Board Lot Table defines the minimum number of shares you can buy or sell at a particular price range. Hence, the minimum amount needed to invest in stocks differs. It will depend on the market price of the security, the same as its corresponding board lot.
Prices of stocks move through a range of set price changes. Prices are thus arranged along with these changes at a time.
Transactions which are beyond the ordered number of maximum changes from the last sale price are not permitted.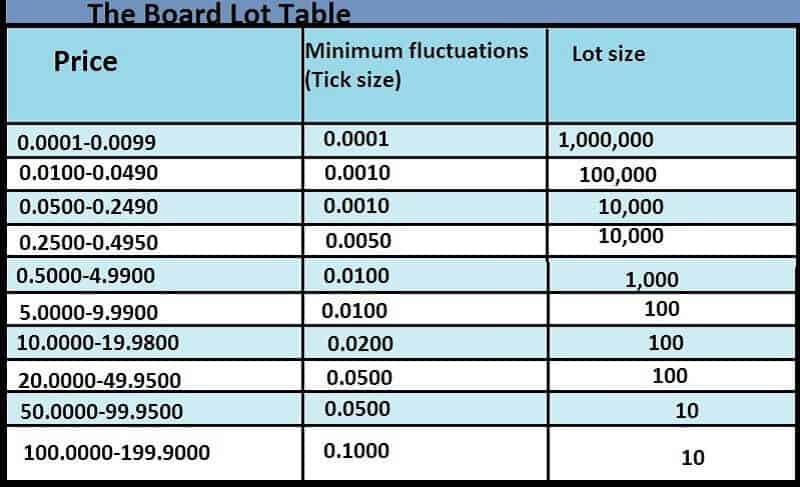 The board lot and fluctuation table above simply dictates the minimum number of shares (lot size) that can be traded and the stock price's allowed fluctuation (tick size), both depending on the present market (or reference) price of the stock. This minimum lot size is named a Board Lot.
For example, if Apple stocks are priced at Php250 per share, inside the (200.0000 – 499.8000) interval, then the minimum number of AAPL shares you can buy is 10. If you want to buy or sell more shares, you can post larger volumes using only multiples of 10, like 10, 20, 500, 1000, etc (for mainboard lot). Volumes like 7, 13, or 319 will be rejected. (Use the odd lot market for this only when the volume is less than the main board lot).
There are certain limitations you need to follow when filling them out to make a valid order.
First is the stock symbol. You just can't purchase from a shop something that doesn't exist. Be familiar with the codes of your favorite stocks.

Second is the volume (or the number of shares). This is where the board lot table matters, shown below. All orders are related to a minimum number of shares as appointed by the board lot table instituted by the PSE.
The board lot and fluctuation table above clearly prescribes the minimum number of shares (that is lot size) that can be traded and the stock price's permitted fluctuation (tick size). Both are depending on the existing market price of the stock.
The minimum lot size is a Board Lot.
This is the table you see above.
The third is the price. This price can either be a 'bid price' if you're buying or an 'ask price' if you're the one selling.
The board lot and fluctuation table also dictate the prices allowed for use in your order postings.
The posted order can be completely matched, partly matched or stay unmatched. If it's carried out, you will get a confirmation statement by your stockbroker with all the details of the transaction, on your personal email or in their site.
When to post your order
You can do your trades daily, Mondays to Fridays.
You can also put off-hours orders (or orders after the trading hours) in preparation for the next trading day. This feature is particularly helpful for those who are not able to watch the market and place orders during the trading hours.
Take care also of the precise restrictions and schedule of your broker concerning placing orders after trading hours.
The currency market is open twenty-four hours a day, five days a week. The currency market's round the clock accessibility is a result of differing time zones and hours of operation of different exchanges.
Quiz yourself about buying the first stock in the following quiz:
When unsure what's the right move, you can always trade Forex
Get the number #1 winning technical analysis ebook for trading Forex to your email.
Containing the full system rules and unique cash-making strategies. You'll be surprised to see what indicators are being used and what is the master tuning for successful trades. Including case-studies and images.