Forex Mentor Pro – Review
This is one of the best, ultimate, fine tuned and professional trading forex courses in the world. Do yourself a favor and sign up to the 7-days-free-trial and start enjoying the best trading lessons and methods in the world.
On so many levels, it's difficult not to be impressed by this service. The pricing is quite affordable at $47 each month, especially for those who are prepared to purchase for a year in advance for only $197. You'll get three separate trainers and gurus, three different completely functional systems, and bi-weekly video-based analyses of the forex world, markets, and currency trading pair setups in exchange for this. Members constantly compliment one other on the excellent quality of their teaching, training, analysis, mentorship, and daily advice.
It's like if you have your own personal coach with you when you use Forex Mentor Pro. Personally, I believe that novices who have no prior experience with forex trading would gain the most from this program because it concentrates on practical techniques that can be scaled up quickly.
Other programs fall short in terms of genuinely transferring information to novices. Working with a system that truly produced outcomes was a unique experience for me.
The system's name indicates that it will act as a mentor to individuals who are new to the forex market.
Well, let's start with the pros, and there are plenty of them:
Over 12 years of experience: You want to learn from those who were there, active in the harder times of the market. Gaining success and high performance during a price tide in the market is easy. Anyone can teach, show, share thoughts, etc. during a tide time in the market and will probably be right most of the time. But it's not them – it's the market. That's why you, as newly trader, want to learn how to trade and analyze during rise, fall, and steady market. Forex Mentor Pro as just that – the experience in all sort of market's status.
More than 11,000 paying customers: Also an important indication. I've went through most of the courses, the videos, the special care that comes from the people behind it. It's priceless. I would recommend this program to every trader who wants to use a cheat sheet with their trades. To learn how to really master this art. And I would have recommend it even if they had only 100 paying customers. The fact they have more than 11K users is a strong indication for a strong program.
A well known person behind it: The person behind Forex Mentor Pro, Marc Walton, with more than 60K followers on Twitter. This is a strong indicator for a non-scam program, when you see how smart, coherent, clear and professional Marc is.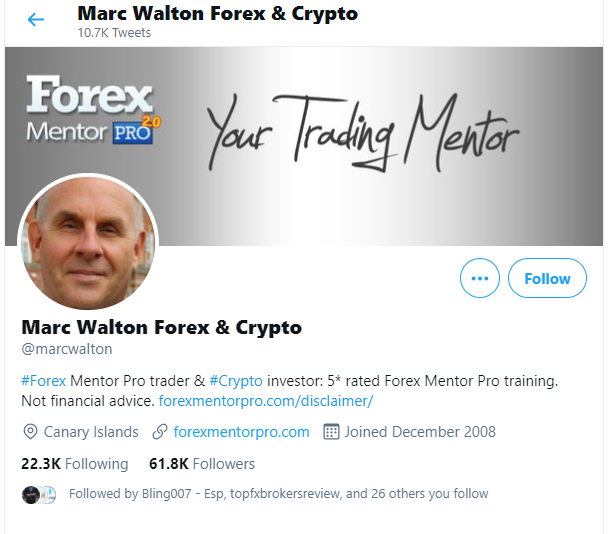 Traders-Paradise.com and Forex Mentor Pro collaboration: ONLY Traders-Paradise.com visitors can get a FREE week trial. Yes, free of any charge for a whole week here you can experience Forex Mentor Pro program. Very recommended.
Another bonus you get from Traders-Paradise: a Free 1 month access to our stock signal vault. That way you can use both programs to trade forex and stocks and therefore diversify your trading portfolio. Recommended.
The people behind it
Dean and Marc, the founders, teamed up with two of their former students who had become into forex trading geniuses in 2011. They collaborated to build a fantastic program that may benefit thousands of forex traders. The system's primary function is to train and assist users in maximizing their earning potential in the currency market.
It's hard not to think that these three experts, lead by Marc Walton, know their industry through and out, based on customer evaluations that say the information is straightforward, easy to grasp, and spot-on. A true treasure in the field of Forex training and trading, with exceptional proprietary methods, software, and instruction for these systems.
This service (which began in 2008) differs from the other main rivals in the area in that it employs three masters rather than just one guru, as other systems do. To be more specific, each of the three Forex gurus with their service has his own proprietary trading technique, which means you're receiving three separate and unique Forex trading methods for the price of one with this business whose aim is to "teach people how to trade Forex for a livelihood."
Walton, Marc
Marc Walton, a fund manager and full-time trader, is the founder of Forex Mentor Pro. Marc is clearly succeeding in this endeavor, since he has made his permanent home in the lovely Canary Islands, which are controlled by Spain. Marc developed his own unique Forex trading system, the M2 Trading System, which we'll go over in more depth later. Since 2008, he has taught literally hundreds of traders how to trade Forex profitably. Walton is rightfully pleased of his regular five-star reviews for his service across the Internet's independent review area. Clients regularly appreciate the excellent level of his (and his other two gurus') mentoring.
What is forex mentor pro and how does it work? Is this a fraud?
In a nutshell, it is not a con. Forex Mentor Pro claims to have assisted over 6,513 Forex traders from all around the world who were having trouble making money on winning transactions. With almost 62,000 Twitter followers, this isn't difficult to believe. The large amount of evaluations they have from members claiming to be from all over the world, from Australia to South Africa to the United Kingdom, back up their amazing claims.
Forex Mentor Pro also has the support of ClickBank, which manages their membership and refund policies on their behalf. No one can deny that ClickBank is the world's top provider of membership management and administration services.
This means you can rest certain that the unconditional 30-day money-back guarantee for the coaching service and trading techniques is 100% genuine. You may try out the highly rated service for the given 30 days trial period with confidence, as ClickBank guarantees and provides for any refund requests with their assurance of 100 percent satisfaction or a full money back refund.
Nothing forex mentor pro is
It's important to understand that Forex Mentor Pro is neither an automatic signal generator or an auto trading robot. The system's proponents even say that they don't give trading advice (mostly for legal disclaimer purposes as they are not registered investment advisors of any kind). They're trying to offer you coaching services to educate you how to trade independently.
Any and all trades must be manually entered on your own Forex platform with a licensed Forex broker. They do provide suggestions for a number of high-quality and inexpensive brokers, but none of these services or auto trading capabilities are available through their website.
Who is this forex mentor pro system designed for exactly?
Though they say that the service is useful for all levels of traders in the field of Foreign Exchange, Forex Mentor Pro is best suited for novices. The Forex Foundation Video Course, which they promote as a significant component of the business, is proof of the market group they are targeting. This promises that no prior Forex trading experience or expertise is required. The business also claims that some of its new users have extensive Forex trading experience and are just looking to enhance their abilities.
Although they may appeal to traders of all ability levels, the video course is clearly aimed for total beginners in this sort of trading. It covers skills such as how to set up a new trading station and how to do basic technical analysis. Later in the video series, more complex ideas are presented.
What do you get from forex mentor pro?
All of the following are included in the Forex Mentor Pro package:
-Three Trading Systems taught by three mentoring teachers -The Forex Foundation Video Course
-All members-only elements of the service are accessible online.
-As needed, guru-led daily assistance (with technical support from a team member).

-More than 40 high-quality instructional videos

-PDF instructional library

-The ability to download required indications without restriction
-Receive forex market updates on a daily basis

-Professional forex trading mentorship from masters

-Discounts available
– 7-day trial period
Members of Forex Mentor Pro adore the one-on-one attention they get. This is difficult to dispute, given that they are offering not only the founding guru Marc Walton's hands-on instruction and assistance, but also the active participation of his two top pupils turned gurus in the trading, teaching, and mentoring processes.
What is the mechanism behind this?
Simple! Forex Mentor Pro is a simple application that allows traders to work with peace of mind, free of frauds and other concerns.
In essence, it employs two brilliant strategies: M1 and M2. These methods are critical for detecting transactions that may be beneficial or detrimental to the trader. To assure success, the film assists both newcomers and veterans in familiarizing themselves with required information and generating a higher revenue.
Forex Mentor Pro searches the forex market for important data that may be used for market analysis. It is an excellent software for both novices and professionals.
Where can I purchase Forex Mentor Pro?
The official website for Forex Mentor Pro is https://try.forexmentorpro.com.
Cons of using Forex Mentor Pro:
Not cheap: This program isn't the cheapest out there. Though it's one of the best (if not the best one), it's mainly designed for traders who've had their first dip in the financial markets but then realized it's a lot harder than they thought, and after finding out that intuition is not a clever trading strategy. Here you'll learn how to look at the market and its assets in the right way. How to analyze, how to determine the best trading strategy in every particular time, and how to profit and monetize it all the way to your bank account.
Available only as a digital product: You have access only to digital products. No physical products, though we've heard of customers that printed most Forex Mentor Pro content to have a physical copy.
Additional information regarding Forex Mentor Pro:
| | |
| --- | --- |
| Product Name: | Forex Mentor Pro |
| Author/Creator: | Marc Walton |
| Price: | $47.00/month to $197.00 |
| Money Back Guarantee: | 60 Days |
| Official Website: | https://try.forexmentorpro.com |
What Forex Mentor Pro includes?
High quality, and high performance private videos only for members
A huge library of PDF documents with practically everything a trader needs. Rookie or pro.
All necessary indicators available for members
Alerts, heads-ups, information about the forex market on a daily basis.
Professional mentoring from masters in forex trade
60-days money back guarantee!
 7-day free trial
See this video of the inside of Forex Mentor Pro, it will answer most of the questions you have so far.
Conclusion
Forex Mentor Pro is an excellent application that provides a wealth of information. As traders, we must learn to improve our skills, extend our perspectives, and search for new ways to generate revenue and increase sales.
It's simple; all you have to do is watch the instructional videos and put them into practice. When confronted with a problem, you may reach out to the support team and ask sensible inquiries; you will receive a response, guaranteed!