Forex Mentor Pro – Review
This is one of the best, ultimate, fine tuned and professional trading forex courses in the world. Do yourself a favor and sign up to the 7-days-free-trial and start enjoying the best trading lessons and methods in the world.
Well, let's start with the pros, and there are plenty of them:
Over 12 years of experience: You want to learn from those who were there, active in the harder times of the market. Gaining success and high performance during a price tide in the market is easy. Anyone can teach, show, share thoughts, etc. during a tide time in the market and will probably be right most of the time. But it's not them – it's the market. That's why you, as newly trader, want to learn how to trade and analyze during rise, fall, and steady market. Forex Mentor Pro as just that – the experience in all sort of market's status.
More than 11,000 paying customers: Also an important indication. I've went through most of the courses, the videos, the special care that comes from the people behind it. It's priceless. I would recommend this program to every trader who wants to use a cheat sheet with their trades. To learn how to really master this art. And I would have recommend it even if they had only 100 paying customers. The fact they have more than 11K users is a strong indication for a strong program.
A well known person behind it: The person behind Forex Mentor Pro, Marc Walton, with more than 60K followers on Twitter. This is a strong indicator for a non-scam program, when you see how smart, coherent, clear and professional Marc is.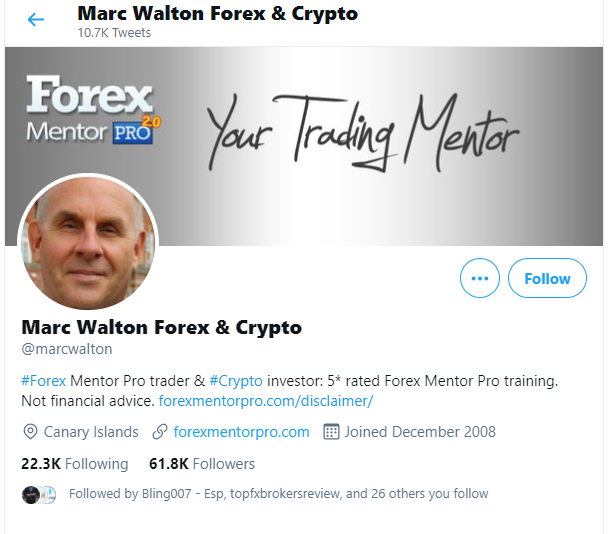 Traders-Paradise.com and Forex Mentor Pro collaboration: ONLY Traders-Paradise.com visitors can get a FREE week trial. Yes, free of any charge for a whole week here you can experience Forex Mentor Pro program. Very recommended.
Another bonus you get from Traders-Paradise: a Free 1 month access to our stock signal vault. That way you can use both programs to trade forex and stocks and therefore diversify your trading portfolio. Recommended.
Cons of using Forex Mentor Pro:
Not cheap: This program isn't the cheapest out there. Though it's one of the best (if not the best one), it's mainly designed for traders who've had their first dip in the financial markets but then realized it's a lot harder than they thought, and after finding out that intuition is not a clever trading strategy. Here you'll learn how to look at the market and its assets in the right way. How to analyze, how to determine the best trading strategy in every particular time, and how to profit and monetize it all the way to your bank account.
Available only as a digital product: You have access only to digital products. No physical products, though we've heard of customers that printed most Forex Mentor Pro content to have a physical copy.
Additional information regarding Forex Mentor Pro:
| | |
| --- | --- |
| Product Name: | Forex Mentor Pro |
| Author/Creator: | Marc Walton |
| Price: | $47.00/month to $197.00 |
| Money Back Guarantee: | 60 Days |
| Official Website: | https://try.forexmentorpro.com |
What Forex Mentor Pro includes?
High quality, and high performance private videos only for members
A huge library of PDF documents with practically everything a trader needs. Rookie or pro.
All necessary indicators available for members
Alerts, heads-ups, information about the forex market on a daily basis.
Professional mentoring from masters in forex trade
60-days money back guarantee!
 7-day free trial
See this video of the inside of Forex Mentor Pro, it will answer most of the questions you have so far.