So this is interesting…
Most traders

do not

use any risk management strategy.
Our app is designed to do that for you.
How to build a profitable exit strategy (AKA: risk management strategy)
Develop and back-test a "Stop Loss & Take Profit" strategy (Optimize your profit for when price is rising; Limit your losses in case of drop in price).
Success Rate –

The most interesting feature!

How many times did this strategy end up with a win over the past 7 days, past 3 months,  and past year. Use this before any trade to see your chances! (see below)

Average Position Time – How much time this strategy takes usually takes (plan and optimize your portfolio trades!)

Strategy Score: Every strategy is unique and it's UP TO YOU to find the best one! Higher score indicates better one than others (How to optimize strategy – below)

100% Real, Full and Accurate Data – Since data keeps coming, strategies can change on a daily basis

Timing- Catch trends, find solid trades and feel market vibes!
Your broker gives you an advantage, use it!
Before submitting a new trade, you have the opportunity to limit your losses and optimize your profit by entering a stop-loss & take-profit strategy, as shown in this example: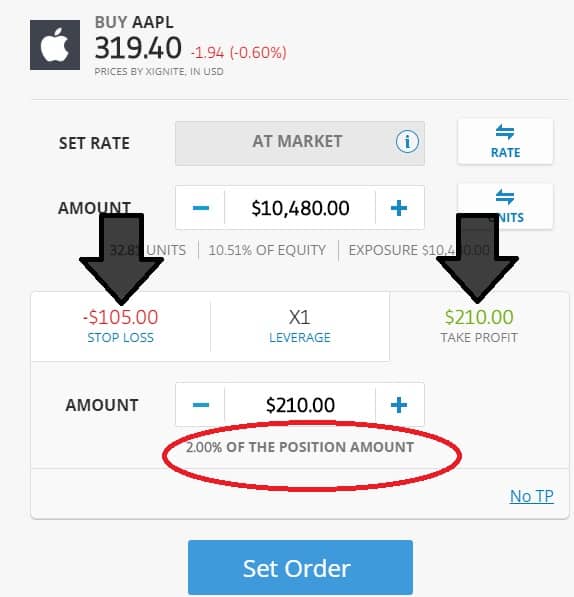 Red circle: Take Profit is set to 2.00%, meaning in case of a win we gain (about) $210.00 on this trade. (Image from: eToro trading platform)
Our Big-Data algorithm is the key to all of this
Every time you press the "GO" button our algorithm runs over approx. 1 billion data instances to back-check the strategy you're testing. During that time, a back server's software runs tens of thousands of virtual positions.
Then inspect them one-by-one to generate specific insights about this strategy.
(For a comparison: An average analyst will need to use thousands of Excel sheets and months of hard work to do 1 strategy back-test run. This tool does it in 5-7 seconds!)
All results have a margin of error of 0.5% and confidence level is 99.99%.
Why success rate is so important?
The success rate not only give you a crucial insight, but also an advantage over other traders.
Last 7 days (Momentum trade) – This can happen due to ad-hoc temporarily situations. For example, price can go up if the CEO twits something positive or a company announces some good news, and can go down if the United States president announces economic war with a country that supplies a certain company's raw materials.


Last 3 months (Solid trade)

– This is a more solid trade because 3 months is exactly the time period of a quarter, which every company is obligated to release all its public reports. Fundamental traders and investors take close attention to quarterly reports and we, as technical analysis traders, want to pay close attention to these traders and investors. Public reports can effect stock's price as it contains both company's goals achieved (sales, marketing, efficiency, etc.) and predictions for future time. A company that reports a prediction for higher sales in next quarter will usually affect its stock's price upwards. But, in the case that on next report the company will fail to meet its own predictions – the price of its stock will probably go down a bit.


Last 1 year (Legit trade)

– This represents the legitimacy of a certain company in the eyes of the investors and traders. This is an extremely important measure as it takes into consideration all quarter reports, all general opinions and knowledge and all ad-hoc momentum events.
Take close attention to each one of them when starting a new trading position.
How to use this tool?
It's very simple.
Choose a stock / company. For example: Apple (SYMBOL: AAPL) or Tesla Inc. (SYMBOL: TSLA) or Facebook Inc (SYMBOL: FB), etc.

Choose a starting strategy. For example: Take profit: 5% & Stop Loss: 5% or Take Profit: 10% & Stop Loss 10%

See the results, check out the score and remember it.

Modify the strategy until you get the best results. For example: Increase or decrease the Take Profit and run it again. If results are better – change also the Stop Loss and see if the results are now better, etc.

Play with it until you find a satisfying strategy and consider using it next time you make a trade
Enjoy!
(Though this is a powerful tool and for sure will help many traders, we find it important to add a warning: Nothing is certain. Especially in the financial markets and trading field. Use this tool with care and cautious.)